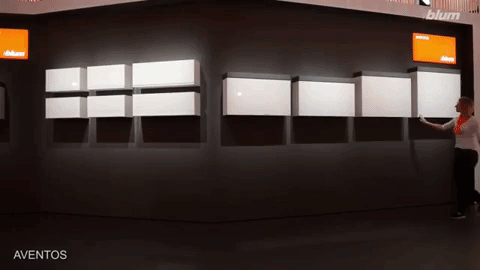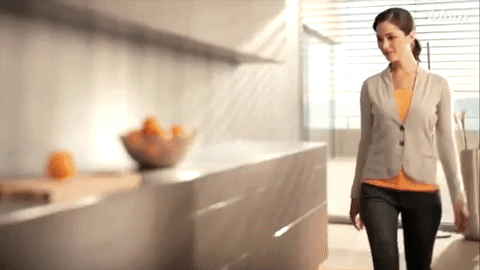 We are happy to announce that JL Closets will now be offering our clients the option to install the Blum AVENTOS lift systems and BLUMOTION technology for cabinet doors and drawers. These high-tech storage solutions offer more freedom of movement and are great for any modern space. The Blum AVENTOS cabinet drawers open upwards and stay out of the way so you can leave them open as long as you need. This is all thanks to a unique lift technology.
The AVENTOS lift system can be installed in a wide variety of cabinet sizes and comes in a number of styles. You can have the AVENTOS system installed as a bi-fold opening door, a door that opens parallel to the cabinet, a door that folds over the cabinet, or a door that pivots from the cabinet. All it takes to open these cabinet doors is a light touch. Closing is just as easy by pushing a small button on the side. Installing a cabinet with AVENTOS lift systems means that you don't have to worry about banging heads on cabinet doors or having your vision blocked. It's a great way to convert a cluttered space into a sleek and modern one.
No more holding a door open while searching through a cabinet! We are also offering Blum's incredible soft-touch close systems for drawers. All it takes to close these drawers is a light touch. These drawers are gentler on the slides, helping them to last longer, and avoid slamming when closing a drawer, making for a quieter home. JL Closets can install AVENTOS doors on a cabinet of almost any size and we can work the unique Blum soft-touch technology into any drawer. Our products are all about making your life more organized and beautiful. Contact us today to see how we can help you get the helpful AVENTOS doors in your home.